New apartment sales on the Gold Coast also hit an all-time high, officially making 2021 the hottest market since Urbis began monitoring the sector
Ray White Sur​fers Paradise Managing Director And​rew Bell reckons the Gold Coast market is now level pegging with other markets in Australia.
"With a higher degree of owner occupiers now in apartments, we are now on level pegging with other markets in Australia and it will contribute to the old boom and bust scenario on the Gold Coast," Bell says.
Further reports from property consultancy firm Urbis are showing stock is tightening even further.
In September they advised there would be only four months worth of stock if there were to be no new project released, and based on current demand. That figure has been revised to just over two months of stock.
New apartment sales on the Gold Coast also hit an all-time high, officially making 2021 the hottest market since Urbis began monitoring the sector.
The number of apartment sales for the September quarter surged to 690, bringing the total of new apartments sold on the Gold Coast in the first nine months of this year to 1,882.
Owner-occupiers continue to account for the majority of sales, totalling 61 per cent in the September quarter.
Urban has wrapped up all of the moves on the Gold Coast over November.
BeckDev set for Palais, Coolangatta apartment development 
The development of the small Gold Coast enclave of Coolangatta is set to continue, with the Melbourne-based BeckDev lodging plans for a new apartment tower.
The $130 million Palais, named after the Jazzland Dance Palais that has stood on the 2,355 sqm site since the 1930s, will have 175 one, two and three-bedroom apartments, as well as resident facilities and a street-level plaza with retail space.
Morris Property Group set for Burleigh apartment tower after site purchase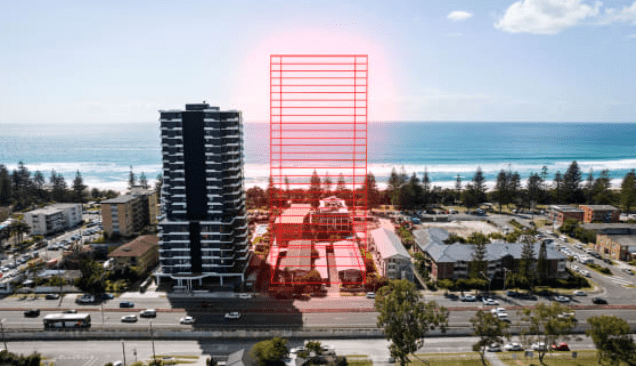 Morris Property Group, the popular Canberra and Gold Coast developer, has landed its next apartment development.
It's in the hot Burleigh Heads market, where MPG, headed by development veteran Barry Morris, has secured a 2,024 sqm double block at 1873-1875 Gold Coast Highway.
They've paid $12.9 million for the site, just 300 metres from the Burleigh entertainment and lifestyle precinct. MPG plans a development comprising predominantly two-bedroom, two-bathroom apartments to provide housing more affordable to a broader section of the community.
Mirador apartments launched on Chevron Island, as apartment numbers gets halved
Citimark has cut more than half of the apartments that have now been launched in their contemporary Chevron Island apartment development, Mirador.
The South East Queensland apartment developer is seeking to chop the 164 apartments down to just 71 in the development, which will take the offering to a more high-end standard with larger apartments.
There will be a mix of two, three and four-bedroom apartments, including the podium level Terrace Apartments, and the 17th level Sky Homes. Prices will start from $690,000, and range to $2.4 million.
Iris Capital's $800 million Victoria & Albert, Broadbeach apartments set for launch
The Sydney-based developer Iris Capital is getting closer to unveiling its debut $800 million Gold Coast apartment development, Victoria & Albert Broadbeach.
The two towers, designed by DBI Architects over a subtropical recreational podium, will home over 400 apartments, two levels of premium offices and commercial facilities and a fresh food and dining retail on the street level.
Designed for the coastal environment, V&A will comprise a mix of one, two and three-bedroom apartments on the lower levels, while the upper residences will offer a mix of three-bedroom apartments, with both towers topped by sub‐penthouses and penthouses.
Turrisi Properties get sign off for mid-century, tropical modernist Broadbeach apartment development
Broadbeach's next apartment tower is set to come from Turrisi Properties, who has received sign off for their first Gold Coast apartment project.
The development, at 9-11 Armrick Avenue, will home 84 apartments across its 22 levels, a mix of two and three-bedroom apartments, as well as a small collection of four-bedroom penthouses, each set to have their own rooftop decks with a spa, kitchen, living and dining facilities.
Broadbeach set for new 45-level, Ferro Chow-designed apartment tower 
The burgeoning Broadbeach is set for another high-rise apartment development, as developers continue to try and keep up with the high demand for luxury product in the area.
Plans have been filed by Ferro Chow Architects for a 46-level tower at 99-101 Old Burleigh Road, on the corner of Armrick Avenue and across the road from Broadbeach Park.
The development will only have 59 apartments, with half-floor apartments taking up the first half of the tower, then full-floor apartments from there up.
The AU set to launch 14 luxury oceanview sky home apartments Surfers Paradise
The Esplanade is one of the Gold Coast's most sought-after strips of beachfront real estate, stretching over 1.5 kilometres across the beachfront, from the entry to Main Beach to the north, to the south where it becomes North​cliffe Terrace.
There's been little in the way of apartment development in recent years. There's Soul, one of the area's most well-known apartment buildings which is approaching 10 years built, and Merit​on's 400 plus apartments at Ocean, currently under construction.
But now the dress circle street is set for something completely different to what has been seen in decades.
The AU, a collection of just 12 exclusive full-floor oceanview sky homes and two opulent three-level penthouses, is set to launch, giving the strip an incomparable offering.
New half and full-floor beachfront apartment tower heading for Main Beach 
The developer push for more high-end apartment towers on the Gold Coast is set to continue at Main Beach.
Plans have been lodged for a 21-level apartment tower at 3671 Main Beach Parade, on the sought-after beachfront side, which will have just half and whole-floor apartments.
The application was lodged by local hotelier Bruce Donnachy, who runs the Arundel Tavern.
The half-floor apartments will run from levels three to nine. Level nine upwards will have just whole-floor three bedroom apartments, with 328 sqm of internal space and 80 sqm of external balconies.
Article Source: qldpropertyinvestor.com.au