NOT everything in the bricks-and-mortar realm of the digitally disrupted world of retail is shrinking.
At least, it seems, not within the Brisbane-Gold Coast growth corridor.
Work has begun on what is being touted as becoming one of the biggest large format retail precincts in Queensland at the rapidly growing northern end of the Gold Coast.
The $200 million development to be known as Home Focus Pimpama will have more than 53,000sq m of floor space when completed.
Hardware giant Bunnings has already been secured as a major tenant in the homemaker centre, subject to development approval.
Guzman y Gomez, the global casual-dining restaurant chain, is another key tenant that has pre-committed to the first stage of the project.
The large format retail precinct — at Exit 49 on the M1 motorway — is being developed by the Gold Coast-based Baycrown Group, which bought the 24.8ha site at Yawalpah Rd, Pimpama, in 2014 for $14.18 million.
Artist's impression of an aerial view of the $200 million large format retail development, Home Focus Pimpama.
Baycrown's managing director, Olivia Van Asperen, said the group was excited to be creating the new retail precinct and being a part of the growth of the local community.
"Pimpama is recognised as one of the fastest growing areas in southeast Queensland," she said.
"Stage one of Home Focus Pimpama consists of 28,017sq m of retail floor space with more than 60 per cent already pre-committed."
Bunnings is looking to open its new warehouse outlet late next year and there will be about 30 other tenancies ranging in size from 200sq m to 2000sq m in stage one.
Ms Van Asperen said the Baycrown had been working with Paul Ziukelis Architects to masterplan and design the homemaker precinct, which will also feature pedestrian and bicycle linkages and 1200 carparking spaces.
She said an upgrade of Yawalpah Rd to four lanes fronting the Home Focus Pimpama site had created high connectivity and visibility from the M1 and a new link road through the project, named Nexus Drive, would further assist traffic flow in the area.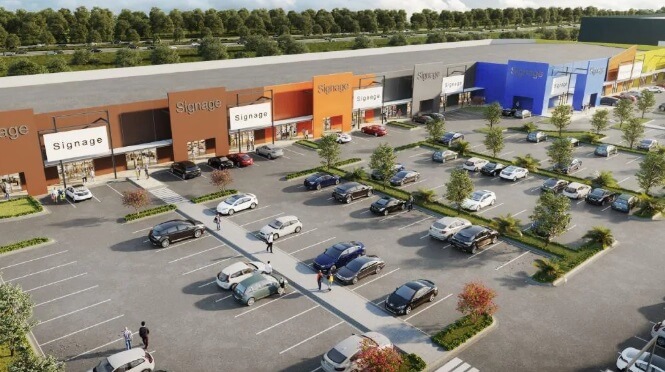 Artist's impression of the $200 million large format retail development, Home Focus Pimpama.
CBRE's Andrew Brimson and Sam Macgregor have been appointed as exclusive leasing agents for the project.
Mr Brimson said about 16,500sq m of tenancies in stage one had been pre-committed.
He said along with Bunnings and Guzman y Gomez, leasing deals had been struck with BP Australia, Wild Bean Cafe and Hype Health Club.
"We are into the expressions of interest phase to lease the balance of the stage one tenancies and have a number of national retailers interested in the centre," Mr Brimson said.
"Given the significant residential development surrounding Home Focus Pimpama there will be a large number of households in the project's prime catchment area, making for an extremely attractive and strategic location for major large format retailers."
Baycrown is also in the process of planning a Home Focus-style project in Melton, Victoria.