[av_video src='https://www.youtube.com/watch?v=PntaI7d1Nhk&feature=youtu.be' format='16-9′ width='16' height='9′] [av_textblock size=" font_color=" color=" av-medium-font-size=" av-small-font-size=" av-mini-font-size=" admin_preview_bg="]
Pimpama City new $100m shopping centre
PROPERTY veteran Norm Rix expects the welcome mat to be out in January for the first customers to his biggest venture in a 60-year career, the $100 million Pimpama City shopping centre.
The developer yesterday said that he was determined to make the district centre "something really special" but that it would not be his swan song.
"I know I'm running out of time at 82 so it's full steam ahead with Pimpama City," he said.
"I'm sure other opportunities will come along and I won't be able to say 'no'."
Final planning approvals for the 18,000sq m Pimpama City were gained last week.
The centre is to be anchored by blue-chip majors Coles, Aldi and Best and Less.
It is in the heart of a suburb named by the Housing Industry Association as the nation's No. 1 residential hotspot — its population grew 35 per cent in 2015-16.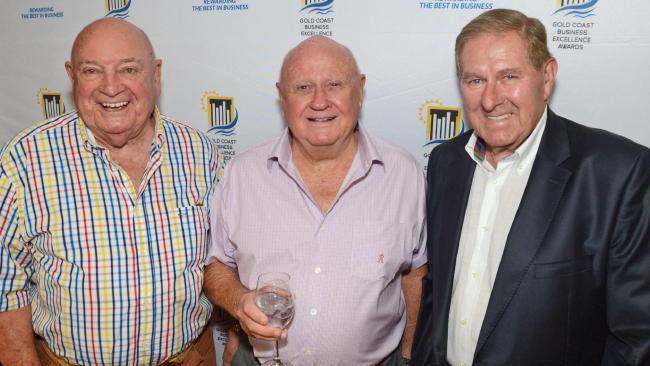 Mr Rix said this growth would ensure Pimpama City would "buzz".
"It will be a beehive for not just Pimpama but for Jacobs Well and indeed Ormeau," he said.
Pimpama City's first two stages are under way on the 16ha balance of a larger site assembled since 2010 through purchases from Mirvac, the Main Roads Department, the city council, and a mortgagee to developer Mike Moorhead.
Stage one of Pimpama City will consist of a Coles Express service station, a Zarraffa's coffee outlet, Subway and other food outlets, a Pitstop convenience centre, laundromat, six-bay car and boat wash, and three dog-wash facilities.
The second stage, apart from the majors, will include 26 speciality stores, a Chemist Warehouse, KFC, Hungry Jack's, National Australia Bank, Jetts gymnasium, a medical centre, and parking for 700 vehicles.
The 1810sq m Aldi outlet will be a new format one that will include fresh food and produce.
Mr Rix said he expected the second stage to be open by September next year.
He said he was still finalising plans for the 7ha balance of the Pimpama City site, with options including bulk-goods outlets, quasi-government tenants, a private hospital, and a retirement home.
The developer's first retail foray was the Ashmore City centre, which he sold for $30.7 million in 1998.
He subsequently has built three Pitstop strip centres and four years ago completed the $70 million Coomera Grand at Upper Coomera.
[/av_textblock]