The morning that 26 Knightsbridge Parade East, Sovereign Islands went up for auction, Perth civil engineer Ric Rizzi awoke and thought to himself the bidding would likely start at $12 million.
It was 2013 and the landmark Gold Coast waterfront property, which had fallen into mortgagee hands halfway through being built, had reportedly already cost its local owners $21.44 million.
Designed by the Brunei royal family architect Bayden Goddard,  the brief had been to create a chateau that looked 100 years old and suited the European coast or Long Island, New York. The house was majestically sprawled over four blocks of land that cost $9.44 million in 2005, and had an initial construction cost of $12 million before its owners were evicted with only half the house completed.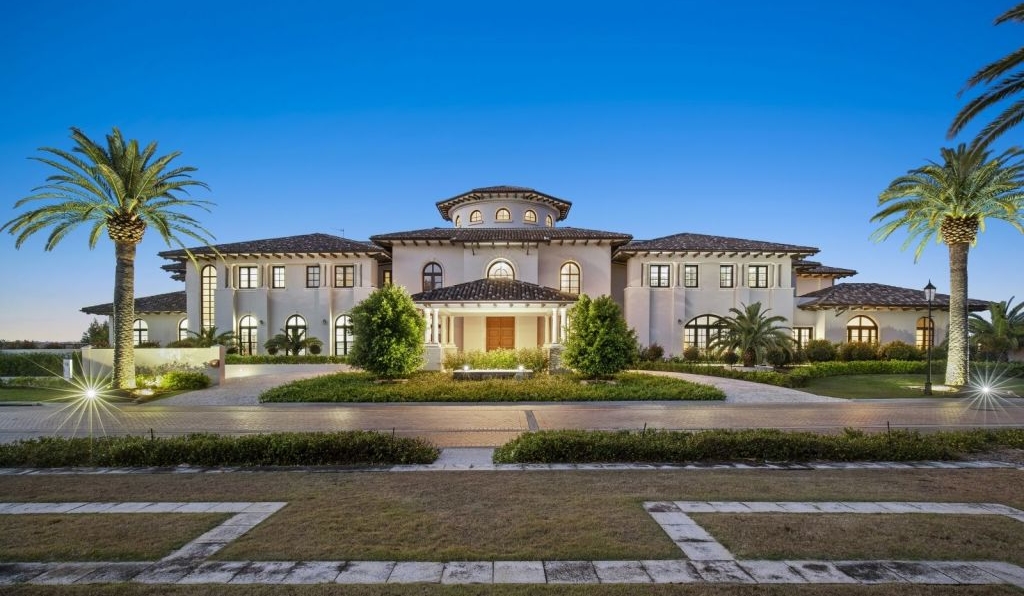 Mr Rizzi turned up at the auction expecting to snag a bargain but even he was completely shocked when the hammer fell at $5.3 million, with him the final bidder.
"It was bizarre. When the realisation came that there were no other bidders, that was a sensational feeling. I looked at the top of the entrance hall that stands 14.5 metres above the ground and it was almost like a sign from heaven that it was meant to be," he said.
"In what world do you actually buy a house like this for significantly less than the land value? It was a total leap of faith; I didn't think about what it would cost to finish, whether it was a good or bad decision and normally I'm an ultra conservative civil engineer.
"To take on a project was left field for me at the time but the whole thing just happened in milliseconds so I took it as a sign from God it was meant to be."
Shortly after buying the mansion, Mr Rizzi was able to purchase the adjoining lot next door for $1.19 million and amalgamated all five blocks on to one massive title, giving the property a whopping 106 metres of north-facing water frontage.
He then spent 12 months compiling all of the documentation – building licences and approvals – and re-instating the consultants and builder who had originally worked on the house.
Once that was in place, finishing the house took a whopping five years to complete.
"One of the carpenters spent five years of his life working on this house. The tiler laid more than an acre of tiles during that time. It was an absolute labour of love," Mr Rizzi said.
"The house was never really a project to make money. It came to me in the most bizarre way and I've always viewed it as being a sign of the success in my life, versus just a trophy."
While Mr Rizzi may not have set out to make money, it will come to him anyway. The house is once again up for sale, albeit this time finished, and with a jaw-dropping price tag to match its palatial size – it's listed for $US30 million (about $AUD 44 million).
Marketing agent Alex Phillis of Alex Phillis Real Estate said the property was listed for sale in US dollars because it was likely the buyer would come from overseas.
"Buyers from Singapore and the Middle East work in US dollars, so we're just making it easy for them," he said.
"I'm already fielding inquiries from overseas – this is a house that will go viral."
But he wasn't ruling out a local buyer, pointing out there were plenty of wealthy people in Australia who had eyeballs on it.
"This house is phenomenal on a national scale. Certainly, this is the most incredible house on the Gold Coast but I don't think there's anything like this in Australia, based on the construction alone," he said.
"I've never seen anything like this. It's in an absolute league of its own. It'd be worth $100 million easy if it was on the Sydney harbour."
Some of the house's incredible features include seven bedrooms, nine bathrooms, custom copper doors, a Turkish bathhouse, eight-metre high ceilings, a 30-metre swimming pool and imported French oak flooring.
The 14.5-metre high entrance lobby features Australia's only four-metre tall, bronze, imported Italian statue of King Neptune, which took carpenters two days just to unpack it. If you've got a few cars, there's a 568-square-metre waterproofed sprayed concrete basement with 12 car parks, wine cellar and a workshop.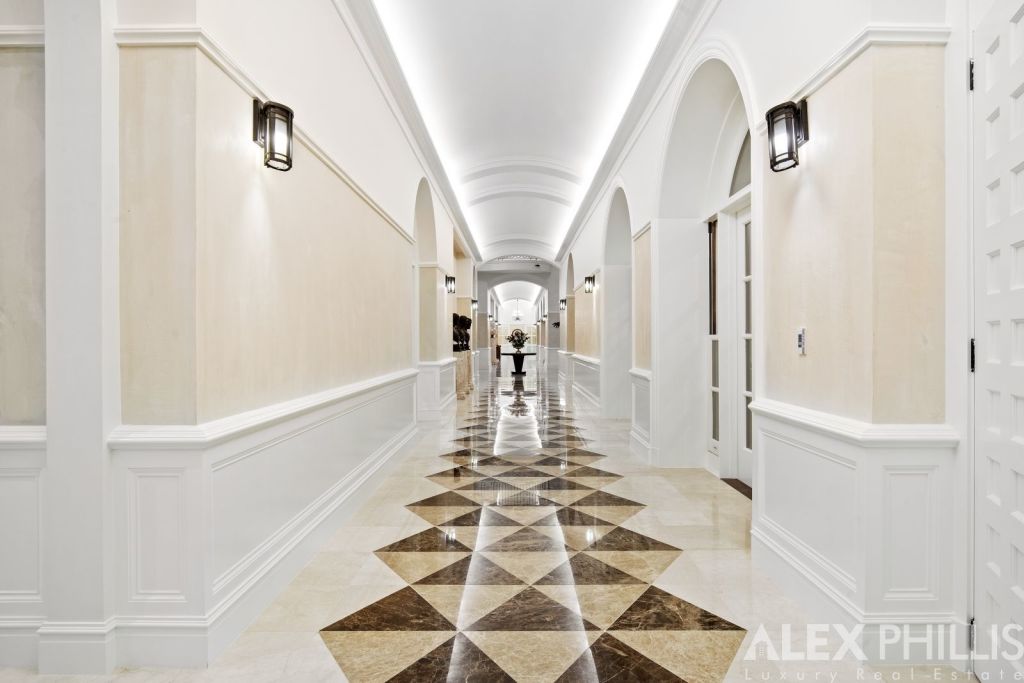 "To give you an idea of how big this house is, we needed a drone to video the inside of the house," Mr Phillis said.
"The east and west corridors are 80 metres long. The corridors are that high and that wide, the scale of it is just incredible."
Mr Rizzi said he had lived in the house and loved it but with all four of his adult children now back living in Perth, he wanted to move back to the west coast to be closer to them.
"What it came down to, at the end of the day, was it was just too small for me," he laughed.
"Seriously though, Scott Tyne [the original owner] was a visionary. I fulfilled the way I believe Mr Tyne would have wanted it and I hope the person who secures it truly appreciates what it actually is.
"I don't think this house will ever be duplicated in Australia again because it means giving up five years of your life. The true value is not in the bricks and mortar, it's the five years of a person's life.
"And it probably cost me the cost of a Volkswagon Polo in paint sample pots. A lot has gone into this house. I want to see it loved and enjoyed."