The pandemic has put lifestyle aspirations sharply into focus, driving a wave of development across the Gold Coast.
Developers have rushed projects to the market in the past six months to capitalise on a booming property market.
According to consulting firm Urbis, apartment sales ballooned 97 per cent in the final quarter of 2020 as interstate buyers jostled with Gold Coast owner-occupiers.
Momentum has also accelerated post-Christmas with developers reporting that some luxury projects launched in December are almost sold out despite premium pricing.
The average price per apartment reached $972,000 in late 2020, compared to $785,000 in 2019, $751,000 in 2018 and $698,000 in 2017, Urbis data shows.
The city's population was forecast to top 1.2 million within 20 years before Covid-19 effectively halted migration in March, 2020.
Take a closer look at the most important city-shaping development projects currently shaping the Gold Coast.
The Star Gold Coast
The Star Entertainment Group's $2-billion mixed-use residential and hotel towers at Broadbeach Island are well under way.
The project, located at 1 Casino Drive in Broadbeach, is being overseen by Destination Gold Coast Consortium, a tie-up between The Star Entertainment Group and its two partners, Chow Tai Fook Enterprises and Far East Consortium.
The project's first stage, Tower One—due for completion in 2022— features 423 apartments and a 316-guest room Dorsett hotel above a 12,000sq m podium with 3600sq m of retail space.
The second stage of The Star Residences, the 63-storey Epsilon, will house 457 residential apartments, a 5-star hotel, expected to be a Marriott brand W Hotel, and retail offering of fine-dining, gourmet delis, cafes and wine bars. It is due for completion in 2024.
Once operational, The Star Gold Coast will be Australia's first integrated multi-tower resort, with nearly 1200 hotel rooms, suites and 900 residences across four towers.
Status:
Under construction
Key facts:
• Tower One designed by DBI Design and Cottee Parker Architects
• Tower one delivered by Hutchinson Builders
• Tower two delivered by Multiplex
272 Hedges Avenue
Brisbane-based Sunland Group is closing in on completing a 44-storey residential tower on the Gold Coast's "Millionaires' Row", Hedges Avenue.
When realised, the $250-million residential tower will offer 98 units and 213 parking spaces.
According to Sunland, more than 90 per cent of the project's apartments have already been sold, primarily to local owner-occupiers.
The 1821sq m waterfront site, at 272 Hedges Avenue in Mermaid Beach, was originally snapped up by Sunland for $13.4 million in June 2017, with the developer breaking ground on the high-rise tower late 2018.
Status:
Under construction
Key facts:
• Designed by Contreras Earl Architecture
• Being delivered by Hutchinson Builders
Coast by Sammut Group
Sammut Group and Sydney-based investment firm Alceon Group have plans in front of the Gold Coast City Council for a $200-million residential tower in central Surfers Paradise.
If realised, the development will be the first luxury tower built in Surfers Paradise since Bezzina Group's Jade was completed nearly 15 years ago.
Sammut Developments has a record of producing high-end beachfront developments, with the Surfers Paradise project's name deriving from their flagship Cronulla project on Sydney's southern shores.
The 35-storey, 39-apartment tower will sit alongside the Northcliffe Surf Life Saving Club and will boast a three-level penthouse spanning more than 1000 square metres.
The development, to be build across a 1600sq m site, will include a range of residential amenities including a wrap-around infinity pool, sky gardens, gym and sauna, beachfront entertainment rooms and barbecue entertainment spaces.
Key facts:
• Located at 43 Garfield Terrace
• The tower will replace the existing 10-storey apartment block
332 The Esplanade
Plans for a 14-storey, Cottee Parker-designed tower, backed by Gold Coast developer Anthony Gordon and builder Paul Younan, are pressing ahead.
The $140-million development, known as Reef Palm Beach, sits on a 3304sq m site at 332 The Esplanade, also in Palm Beach.
Plans propose 76 apartments across 13 levels plus two basement levels of car parking space.
Gordon and partners picked up the beachfront site in September, 2020 for $21 million from healthcare group Regis after it abandoned its plans for an eight-level aged-care building on the land
Subject to approvals, the project will be launched in mid-year with construction due to commence in August with a late 2022 completion planned.
Key facts:
• Nearly 50 per cent of the site is earmarked for green spaces
• Offering a mix of two, three and four-bedroom residence
• The development will also feature five beachfront beach houses
Imperial Square
Azzura Group has plans to build the southern hemisphere's tallest towers, a 108-storey super-tower in the heart of Southport as part of a $2.3 billion four-tower complex.
The completed development, planned for a 1.34ha Meron Street site currently home to the Mercato on Ferry complex, will contain 1600 dwellings and more than 40,000sq m of commercial and retail space.
The development will feature the 18-level Regal Residences, which will have 145 apartments including two rooftop penthouses, and a four and a half star hotel with 200 suites, a two commercial towers the 48-level Monarch Place and 68-level Imperial Tower.
The development's fourth tower, Majesty, a 108-level super-tower, if realised will become one of the world's tallest towers.
Key facts:
• The project will be built over four stages
• Will create 3000 jobs during its construction phase
• Will create a further 2600 full-time jobs once completed
Queen Street Village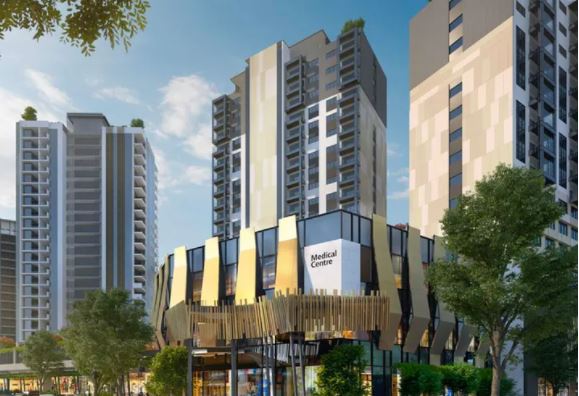 The former Gold Coast Hospital site will be transformed into a $500-million mixed-use lifestyle development, being delivered by developer Property Solutions.
The masterplanned development is being built on a 3.2ha triangular site bound by Queen, Nerang and Little High streets.
The development is currently one of the biggest single projects in south-east Queensland and will feature everything from a unit tower targeted at students rough to a two-tower vertical retirement village, cinema, hotel and shopping centre.
Status:
Under construction
Key facts:
• Being delivered by Hutchinson Builders
• Designed by Buchan Group
• First stage expected to open in mid-2021
The Lanes Residences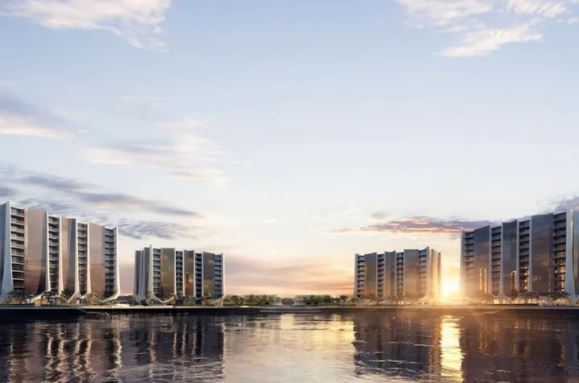 Construction of Sunland Group's $1.6-billion first stage is nearly done with the finishing touches being put on its two towers.
Located in the 42ha hectare masterplanned community of The Lakes in Mermaid Waters , it will include four residential towers between 10 and 12 storeys that will overlook the newly-named "Lake Unity" and ground level retail.
Each of the buildings will have 70 to 80 apartments, with a mix of one-, two- and three-bedroom luxury units and penthouses while the masterplan will also feature a retail village, parklands and a community green space.
Apartments in the first stage of the development, known as the "East Village'', are scheduled for completion mid-2021.
Status:
Under construction
Key facts:
• Sunland first unveiled the project in December 2018
• Designed by Contreras Earl Architecture
Natura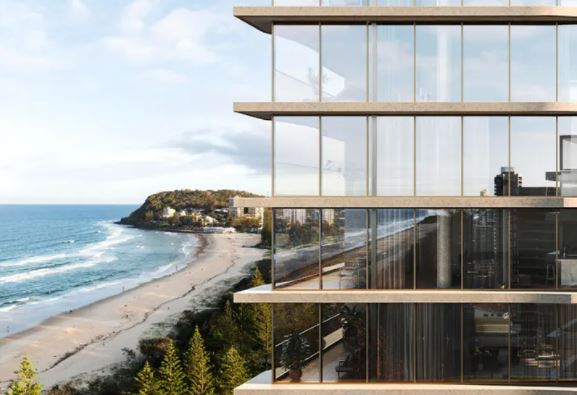 Brisbane-based Spyre Group's $77-million Natura project will rise from a 1011sq m site located at 112 The Esplanade, Burleigh Heads.
The development will comprise 33 apartments over 18 storeys, with 16 levels of half-floor apartments and one ground floor terrace unit.
It will replace an existing mid-level apartment building developed by Mimi Macpherson, the sister of Australian supermodel Elle.
Among the offerings at Natura will be a "beach house", a dedicated wellness space and a range of residential amenities including a resort-style pool, and an outdoor dining area.
Status:
Under construction
Key facts:
• The developer purchased the site for $16 million
• Plans were submitted in late 2019
• Designed by Bureau Proberts
La Mer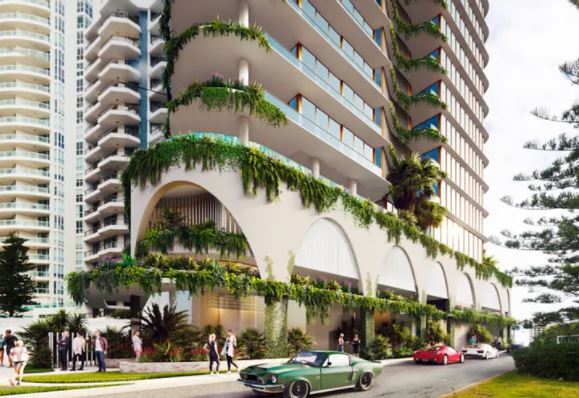 Development plans are in place for a 32-storey project at the Gold Coast's Main Beach with apartments priced from $2.2 million.
Polites Property Group and Descon Group Australia are behind the project in a 50/50 joint venture partnership.
The $95-million tower, called La Mer, would comprise 29 full-floor, three-bedroom residences.
The Main Beach site is currently occupied by a 1980s three-storey building with carparking at ground level.
Status:
Planning
Key facts:
• Located at 3580 Main Beach Parade
• Designed by Contreras Earl Architecture
• Construction expected to commence May 2022
Ocean by Meriton
Harry Triguboff's Meriton is forging ahead with its plans for a 76-storey residential tower on The Esplanade in the heart of Surfers Paradise.
The 722 apartments in Ocean will include 319 operating as serviced apartments under Triguboff's Meriton Suites brand and five penthouses.
The development will have three levels of basement and the tower will sit on a five-level podium, with the top level housing a recreation area that will include a pool, spa, fitness courtyard, and barbecue area. A residents' indoor pool will be included on level 32.
Status:
Under construction
Key facts:
• Located at 84 The Esplanade
• Meriton paid paid $58 million for the site in March 2017
• Designed by Meriton in tandem with SJB Group
Signature Broadbeach
A new 35-storey tower rising on the Gold Coast skyline is Signature Broadbeach, the new project from Melbourne-based rich-lister-turned-developer Paul Little.
The $210-million, 245-unit luxury tower is one of the biggest under construction on the coast and has already chalked up sales on more than 184 of its units.
Interior design was handled by leading Australian design firm SJB Interiors, who were inspired by Broadbeach's natural landscape.
At the building's podium level will be a family-friendly entertaining space which includes a barbecue and teppanyaki grill area, large outdoor lawn area, a private dining room, a lounge, theatre, gym, steam room, sauna and spa.
Status:
Under construction
Key facts:
• Located at 12-18 Philip Avenue
• Designed by Rothelowman
• Being delivered by Icon
• The project is due for completion in the first half of 2022
Kirra Beach Hotel
The old Kirra Beach Hotel will make way for two apartment towers and a boutique hotel as part of $380-million redevelopment plans by Brisbane-based KTQ Group for the site at the southern end of the Gold Coast.
To be built over three stages, the redevelopment's first stage includes a 15-storey tower comprising 118 luxury residences aiming to tap the owner-occupier market.
The first stage of the popular pub's transformation also includes a second hospitality venue, and a complete rebuild of the Kirra Beach Hotel.
The site's second stage includes a 10-storey residential tower and a boutique hotel as part of the third stage.
Key facts:
• Construction expected to commence mid-2021
• Completion expected late-2023
Flow Residences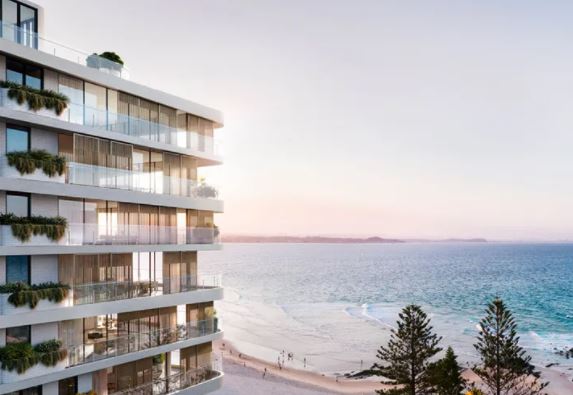 Brisbane-based S&S Projects is pressing ahead with a 12-storey development on Rainbow Bay's Petrie Street.
The tower will feature 22 luxury units with price points ranging from $1.1 million up to $10.5 million for the penthouse.
The final $3.15 million unit sold less than 12 weeks after the project was put to the market in mid-2020.
The luxury three-bedroom, half-floor "oceanic" apartment overlooks Snapper Rocks and came on top of $70 million in sales recorded during the first two months of the campaign.
Status:
Under construction
Key facts:
• Designed by Cottee Parker Architects
• The existing building on the site was demolished in November
De-Luxe Apartments
Sydney-based developer Weiya Holdings has plans to transform the historic Burleigh Theatre building on the Gold Coast into a residential and commercial precinct.
Weiya purchased the 1667sq m site for $18.5 million midway through 2019 and lodged plans to develop the site a year later.
The 14-storey tower will be called the De-Luxe Apartments after the mid-century De Luxe Theatre and Old Burleigh Arcade, which were incorporated into the design.
The 90-year-old building—a popular cinema and dance hall from the 1930s—was remodelled in 1955 and again in 1976, with most of its original fixtures removed.
Key facts:
• Located at 64 Goodin Terrace and 1823 Gold Coast Highway
• Designed by Conrad Gargett
6-8 George Avenue
Gold Coast property developer Jim Raptis has lodged a development application for a high-rise apartment tower at Broadbeach.
Raptis, under the entity Patmos Development Management, wants to build a 40-storey tower comprising 134 apartments on a 1550sq m site.
If realised, the building at 6-8 George Avenue would overlook Surfers Paradise and Broadbeach and be 155.5m high.
The site, currently occupied by a low-format, two-level building, sits within the high-density residential zone and is also identified within a frame area of the light rail urban renewal overlay.
Key facts:
• Designed by Koichi Takada
5 First Avenue, Burleigh
Nielson Properties has teamed up with Chris Vitale of Brisbane's Pointcorp group to develop a $350-million development in Burleigh Heads, which comprises a 132-key luxury hotel and 92 residential apartments.
The existing unit blocks will be demolished to make way for the two 23-storey towers, which include a three-storey podium structure and 394 car parks over three-levels of basement car-parking.
The developers have signed a heads of agreement with a five-star hotel brand—which has hotels in New York and Los Angeles—to operate the purpose-built 242-bed hotel and marks the brand's entry into the Australian market.
The hotel would include a ballroom, conference and event centre, business centre, several restaurants and bars, and a children's centre.
Key facts:
• Nielson Properties purchased the site for around $22 million
• Designed by Elenberg Fraser
• To be built across 4000sq m site
9-11 Thornton Street, Surfers Paradise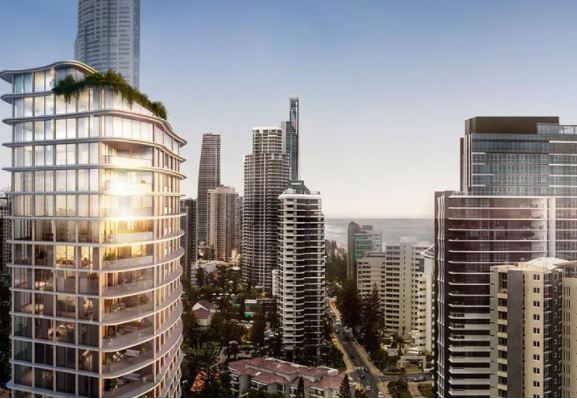 Jinding Developments has recently acquired a residential development site at Surfers Paradise, marking its expansion into Queensland.
The 1012sq m site at 9-11 Thornton Street was acquired for $4.6 million from GV Property Group, and will be transformed into a $75-million 27-storey building with more than 120 apartments.
With the development currently in the design phase, proposed features include a wellness centre on the ground floor that offers a lap pool, gym, yoga spaces, and sauna.
Smart technology is planned to be implemented throughout the building for improved quality of life and convenience, including keyless entry, number plate recognition car park entry and electrical charging station for electric vehicles.
Key facts:
• Designed by DKO Architecture
• Construction is expected to commence in early 2022
• Completion expected by early 2024
No. 1 Grant Avenue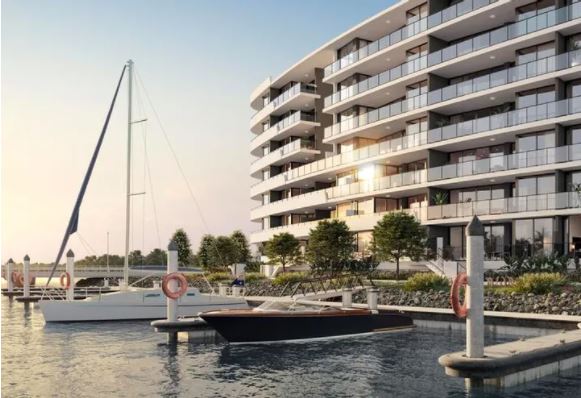 Gold Coast-based Aniko Group is close to completing its $140-million "resort-style" residential precinct on Hope Island.
Aniko Group, led by George Mastrocostas, plans to deliver 210 apartments for the 1 Grant Avenue address, which spans an 8390sq m waterfront site.
The developer reached a compromise over original plans for the apartment project after taking the Gold Coast City Council to court.
Status:
Under construction
Key facts:
• Aniko Group acquired the site for $4 million in December 2017
• Originally approved in December 2018
• Construction is expected to be completed by late-2021
Varsity Lakes
Homecorp Property Group will break ground on the Gold Coast's first dedicated build-to-rent (BTR) project after securing funding for the $200-million development from ANZ.
The project, set to comprise buildings ranging from nine to 16-storeys and feature a mix of one and two-bedroom units, will sit as the Gold Coast's first dedicated build-to-rent project.
All 389 residences on the 3ha site at Varsity Lakes, next to Bond University, will be offered as permanent rentals to the market and operated under single ownership under the BTR model.
The first stage of 257 apartments over two towers is expected to take its first tenants early in 2022.
Key facts:
• Backed by Morgan Stanley
• Four towers ranging in height from 9 to 16 storeys
• The development will be constructed in two stages
Dawn by Mosaic
Mosaic's fourth apartment development on the Gold Coast is located in Mermaid Beach.
The $112-million 85-unit tower, dubbed Dawn, will be built on Peerless Avenue where Mosaic is constructing the sold-out 26-level Bela project due for completion in the middle of this year.
Apartments, ranging in size from 106sq m to 166sq m and featuring "expansive" cantilevered balconies, start from $750,000 for a two-bedroom apartment with the three-bedroom units priced from $1.37 million.
A residents' lounge will be located on level nine with a private dining room, kitchen, wine cellar and tasting room, lounge area and outdoor terrace with teppanyaki bar.