Waterfalls on Gold Coast
Waterfalls on Gold Coast. We Gold Coaster's are a lucky bunch! Not only do we live in a place with lots of things to do, and, of course our white sandy beaches, we also have world heritage listed rain forests and breathtaking waterfalls right at our doorstep. And with Summer knocking on the door, we highly recommend you clear your schedule, pack your swimmers and embark on a Hinterland waterfall adventure.
Here are our 11 favourites:

Beechmont
Lip Falls – 38.7km from Surfers Paradise
Just a 50 minute drive from Surfers Paradise nestled amongst the Denham Scenic Reserve are the Beechmont rock pools or Lip Falls as the locals call them. Once you park your car (park on Doncaster Road,) it'll only take half an hour to get down to the Falls. Beware, walking paths are steep and narrow, right next to deep gorges. Waterfalls on Gold Coast.
Love Heart Waterhole
About a 35-minute drive from Nerang lies Killarney Glen Waterfall and a heart-shaped waterhole that's absolutely picturesque. On the way there you'll pass the Government's Kokoda Training facility – in fact, a large part of the Lower Beechmont area is a military training zone. With this in mind, be prepared for signs about live ammunition! After applying some mozzie repellant, follow the track down for about 30 minutes to the waterfalls. Here you will find a few areas to swim, and more than likely you'll see some adventurous types jumping into the love heart-shaped pool. Not a place for toddlers, but a great spot for older kids and the young at heart.


Mt Tamborine
Cedar Creek Falls – 44km from Surfers Paradise
Cedar Creek Falls are one of the better known waterfalls on Mt Tamborine and a popular destination for locals and tourists alike (be warned – it can get quite busy). Your best bet is to explore the area via the Cedar Creek Circuit (3.2km), which will take you along all the cascades and rock pools. To get there, take Tamborine Mountain Rd until you get to Cedar Creek Falls Rd just past the information map stopping bay on the left. From there, it's only a short drive down a narrow road and across a small creek before coming to the Cedar Creek Falls section and the car park at its entrance.
Cedar Creek Falls Rd, Tamborine Mountain
Witches Falls – 38.7km from Surfers Paradise
Get your hiking gear ready, you're off to discover the magical Witches Falls. The 3.1km circuit starts just beyond the commemorative shelter at Main Western Rd on Mount Tamborine. The track zigzags down the mountain side pass before reaching Witches Falls. After heavy rain, the pools fill with water and spring to life with a variety of insect and frog species.
The waterfall only flows after recent rain and is best viewed from the lookout platform. Once you're done taking in the view, head over to Fortitude Brewing Company for a cold beer and delicious pizza.
132-138 Main Western Rd, North Tamborine
Springbrook National Park
Natural Arch – 47 km from Surfers Paradise
As you probably know, Natural Arch is a heavenly cave like rock formation at Springbrook National Park that is home to a waterfall (obviously), glow worms and a colony of tiny bent-wing bats –  it's also one of the most photographed spots on the Gold Coast (don't forget tag us #insidegoldcoast). It's super easy to find, just follow Nerang-Murwillumbah Rd until you get to the car park signage at Bakers Rd.
To get down to the action, start the short one kilometre rainforest walk clockwise to the Natural Bridge rock arch.
Fancy a bite to eat? Natural Arch Cafe and restaurant is just a short drive up the road for that after swim feast.
Nerang-Murwillumbah RD, Springbrook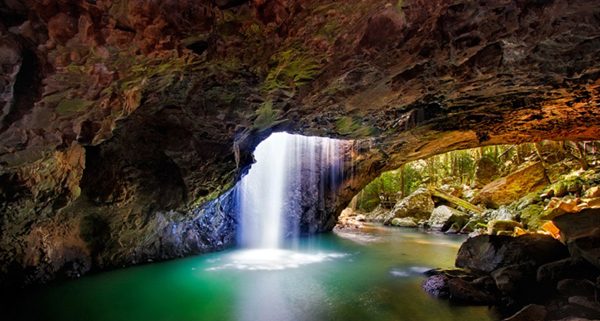 Twin Falls – 40.6km from Surfers Paradise
Start your 4km journeythrough sub-tropical rainforest from the Tallanbana picnic area or Canyon lookout in an anticlockwise direction. You'll reach a small bridge, flowing water and immense rock formations after a couple of minutes (perfect for that Instagram post). Waterfalls on the Gold Coast.
Keep hiking down the track until you're greeted with two rushing waterfalls. At the base of the Twin Falls you'll find a large rock pool that's perfect for a swim.
Canyon Pde, Springbrook
Purling Brook Falls – 37km from Surfers Paradise
Waterfalls on Gold Coast. The Purling Brook Falls are huge,  towering at over 100 meters in height and are best visited after rainfall.
Start your 2 hours hike clockwise along a scenic and elevated path into a subtropical gorge to view the amazing falls from below. Since suspension bridges and waterfalls seem to go hand n hand, again, take that token Instagram picture and venture on further down the track until you reach waterholes that are great for swimming. When you have had enough, prepare for a steady climb up through the rainforest which will bring you back to the picnic area.
63 Gwongorella Parade, Springbrook
---
---
Lamington National Park
Elabana Falls – 67.4 km from Surfers Paradise
Elabana Falls are definitely a hidden gem located amongst Lamington National Park close to O'Reilleys Rainforest Retreat (great spot to grab a bite to eat after your waterfall adventure). Park your car at O'Reilleys and make your way through the rainforest, past Picnic Rock and further downhill for another 400 metres until you reach the cascading falls. Make sure you refresh before embarking on your way back up, it gets quite steep! Waterfalls on Gold Coast.
Lamington National Park Rd, Canungra
Northern NSW
Minyon Falls – 113km from Surfers Paradise
Waterfalls on Gold Coast. Yes we know, the next two locations aren't on the Gold Coast, they aren't even in Queensland, but it will take you no longer than 2 hours (driving along what is probably the most breathtaking scenic drive) until you reach Nightcap National Park in Northern NSW. Make sure you come prepared, because to get to Minyon Falls can be quite the journey (well worth it though). We recommend you start off with Minyon Falls Lookout providing you with magnificent views before adventuring further downstream towards the base of the Falls.
Nightcap National Park, Newton Dr, Nightcap NSW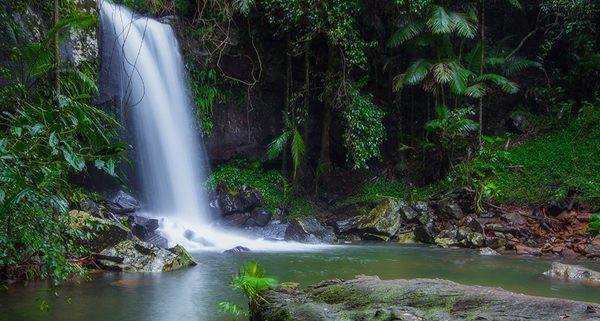 Killen Falls – 108 km from Surfers Paradise
Waterfalls on the Gold Coast. Killen Falls are surely one of the most epic waterfalls to take a dive in with its large swimming hole and rock pools. The rock has been eroded significantly behind the waterfall, forming an impressive cave. Ever wanted to take a waterfall shower? Well, at Killen Falls that's not a problem as you can swim across the pool and climb up the rocks just to sit right underneath the falling water. Killen Falls are super easy to find, just minutes off the Pacific Highway near Byron Bay. Waterfalls on Gold Coast.
Killen Falls Dr, Tintenbar NSW
Purling Brook Falls
Purling Brook Falls (I've also seen it spelled as Purlingbrook Falls) was one of those waterfalls that Julie and I anticipated seeing prior to our visit. We knew from the pre-trip research that this was one of Queensland's taller waterfalls as it would dive some 100m off an escarpment into a well-forested base. The cliff-diving aspect of the falls made this one really stand out as the falls pretty much didn't make any contact to its cliffs throughout almost all of its entire plunge. Apparently, we weren't the only ones who looked forward to coming here because we noticed it seemed to get many visitors, and this was probably due to the close proximity of the Gold Coast Hinterland to the populated Gold Coast itself.
To make your waterfall adventure one to remember make sure you bring proper closed-in shoes, plenty of water, mozzie repellent and sunscreen.
We know how tempting (and refreshing) it is to go for a swim in the rock pools and lagoons, make sure it's safe to swim and adhere to any safety signs – better safe than sorry!
Last but not least, don't forget to take your rubbish! Waterfalls on Gold Coast.
Originally Published: www.insidegoldcoast.com.au